Username Lovely35
Email Sophiamason027@gmail.com
Name Sophia Mason
Looking for Male
Age 31 y.o.
Country United States
City Dallas
Here for Serious Relationship, Marriage
Marital status Single
Sexual Orientation Straight
Children I want children
Ethnicity Native American
Religion Other
Body Type Average
Education High School
Occupation Self-employed
Description
I'm a sincere, honest, caring, kind, friendlly very easy to get along with. I'm, social, romantic, passionate, smart, intelligent, cool headed,adaptive,have a big heart. And i do believe in the truth and honesty.
I'm looking for least relationship and serious relationship can lead to marriage
IP address 64.145.93.192 – proxy
---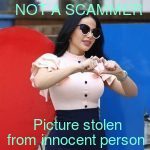 Username Gracemore
Email aakajacom@gmail.com, gracemoris2020@gmail.com
Name Grace Moris
Looking for Male
Age 33 y.o.
Country United Kingdom
City London
Here for Friendship, Serious Relationship, Marriage
Marital status Single
Sexual Orientation Straight
Children I don't have children
Ethnicity White
Religion Christian
Body Type Athletic
Education Some college
Occupation Nurse
Description
I believe in honesty, kindness,being respectful…I am loving and giving. A hard worker…I believe in paying my bills, taking care of responsibilities, taking charge of my life! I have a soft heart….I hate to see a person in need (always makes me want to help them) and I hate to see a person hurt or sad (always makes me want to try to make them not hurt and happy). I get mad when I see injustice. I don't like liars and thieves or any one who takes advantage of another person. I hate cruelty.
wow you have a nice picture here and i will love to know more about you, my name is Grace you can reach me on my email so that we can know each other more better. Here is my email contact below
gracemoris2020@gmail.com i will be waiting to hear from you so that we can share pictures and know each other more better.
IP address 185.212.171.22 – proxy
---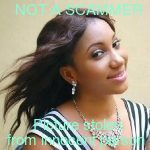 Username Merle01
Email ferdinandrevfather@yahoo.com, zenawirosie24@gmail.com
Name Rosie Zenawi
Looking for Male
Age 25 y.o.
Country United States
City oHIA
Here for Serious Relationship
Marital status Single
Sexual Orientation Straight
Children I want children
Ethnicity Middle Eastern
Religion Jewish
Body Type Slim
Education Masters Degree
Occupation SELFBUSINESS
Description
nice to meet you, am Rosie,i have
important thing to share with you,
Please let's talk through my private
email here (zenawirosie24@gmail.com)
IP address 209.95.56.53 – proxy
---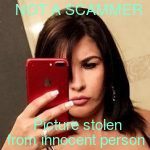 Username Beat23
Email marytaylor070@gmail.com
Name Mary Taylor
Looking for Male
Age 32 y.o.
Country United States
City Illinois Peoria
Here for Friendship, Serious Relationship, Marriage
Marital status Single
Sexual Orientation Straight
Children I don't have children
Ethnicity Hispanic
Religion Christian
Body Type Average
Education Some college
Occupation Consultant for Younique
IP address 105.112.177.65 – Nigeria
---
Username Sandrajames715
Email Mdsrasana@gmail.com, graceprempeh123@gmail.com, gedonu1@gmail.com
Name Sandra James, Grace Prempeh
Looking for Male, Both
Age 23 y.o.
Country Ghana
City Accra
Here for Serious Relationship
Marital status Single
Sexual Orientation Straight
Children I don't have children
Ethnicity White
Religion Christian
Body Type Fit
Education Student
Occupation Medical
Tel 413-239-8766
Description
My name is Sandra I love going to beach
IP address 102.176.65.179 – Ghana
---
More emails and phone numbers of scammers
Jennifermaddox42@gmail.com
cynthiaremi88@gmail.com
513-201-7716
roseavabad@gmail.com
817-506-3123
Janetbarr863@gmail.com
daniellejensenccc05409@gmail.com
Stephanierachel41@gmail.com
solamary736@gmail.com
ginawilson1230@gmail.com
lilygardine@gmail.com
720-770-1591
Marcianopop102@gmail.com
512-566-7111
joyce_norman77@yahoo.com
christodugaray38@gmail.com
phillipjustin076@gmail.com
This post was viewed 1229 times