Username Angela243
Email Loviacarter1@gmail.com
Name Lovia Carter
Looking for Male
Age 37 y.o.
Country United States
City Michigan
Here for Friendship, Serious Relationship, Marriage
Marital status Single
Sexual Orientation Straight
Children I don't have children
Ethnicity Mixed
Religion Christian
Body Type Average
Education Student
Occupation Nurse
Description
Hi there I'm new here looking for a serious relationship which may lead to something else in the future
IP address 108.61.229.95 – proxy
---
Username jessicacasey216
Email jessicacasey216@gmail.com
Gender Female
Looking for Male
Age 29 y.o.
Country United States
City Los Angeles
Here for Romance, Serious Relationship, Marriage
Marital status Single
Sexual Orientation Bisexual
Children I don't have children
Ethnicity White
Religion Christian
Body Type Slim
Education Bachelors Degree
IP address 89.187.175.38 – proxy
---
Username rickyoane
Email kewoz033@gmail.com
I am Female
Age 27 y.o.
Here for Fun, Marriage
Looking for Male
My match's age from 30 to 86
Location Madrid, Spain
More info
Marital status divorced
Children don't want children
Sexual Orientation Straight
Ethnicity black
Religion Muslim
Occupation partner also know the love for woman
Description
am a young lady looking for good and caring partner also know the love for woman
IP address 167.172.247.68 – proxy
---
Username fsdfefdrf
Email lovelysani1g1@gmail.com
Looking for Male
Age 66 y.o.
Country United States
City Newark
Here for Marriage
Marital status Widowed
Sexual Orientation Bisexual
Children I don't have children
Ethnicity Native American
Religion Spiritual
Body Type Voluptuos
Education PhD
Description
hello handsome i will like has to chat more on hangout lovelysani1g1@gmail.com
IP address 191.96.97.58 – proxy
---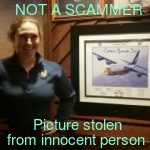 Username realkatie
Email cindaj95@gmail.com, katiehiggins70@outlook.com
Looking for Male
Age 34 y.o.
Country United States
City new york
Here for Friendship, Romance, Serious Relationship, Marriage
Marital status Single
Sexual Orientation Straight
Children I don't have children
Ethnicity White
Religion Christian
Body Type Slim
Education Masters Degree
Occupation military
Description
About myself, what can i say about myself….am a calm, peaceful, easy going, and humble creature, a lady that knows what she want and go after it, but i can be very serious in some important things
Hello, my name katie higgins, i came across your profile and decided to contact you for friendship, i know why i choose to contact you, it is for a positive reason, please
contact me via
my email address at katiehiggins70@outlook.com,
so i can tell you more about myself.
Thank you
Katie.
IP address 196.171.237.53 – Togo
This post was viewed 722 times