Username jeffreyhanke232
Email jeffreyhankeyepes@gmail.com
Name Jeffrey Hankeyepes
Looking for Female
Age 49 y.o.
Country United States
City erie
Here for Serious Relationship
Marital status Widowed
Sexual Orientation Straight
Children I have 1-2 children living with me
Ethnicity White
Religion Christian
Body Type Athletic
Education Bachelors Degree
Occupation Marine Corps
Description
single with two kids
IP address 185.156.173.181 – proxy
---
Username Jwb20
Email jb195566@gmail.com
Looking for Female
Age 55 y.o.
Country United States
City Piscataway
Here for Friendship, Serious Relationship, Marriage
Marital status Single
Sexual Orientation Straight
Children I don't have children
Ethnicity White
Religion Christian
Body Type Average
Education PhD
Occupation Military
Description
Im a faithful and loyal and also. a God fearing man
IP address 197.211.58.200 – Nigeria
---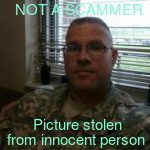 Username Henrygood123
Email Nabconrreg00272@gmail.com
Looking for Female
Age 59 y.o.
Country United States
City Huston
Here for Serious Relationship, Marriage
Marital status Widowed
Sexual Orientation Straight
Children I don't have children
Ethnicity White
Religion Christian
Body Type Average
Education Bachelors Degree
Occupation Us Army
Description
Simple and loving .. I love with all my heart and I hate to be taken for granted.
IP address 154.160.6.88 – Ghana
---
Username Kimsamuel
Email 98234er@gmail.com
Name Kim Samuel
Looking for Female
Age 50 y.o.
Country United States
City California
Here for Friendship, Romance, Serious Relationship, Marriage, Just Fun
Marital status Widowed
Sexual Orientation Straight
Children I have 1-2 children living elsewhere
Ethnicity Asian
Religion Christian
Body Type Fit
Education Masters Degree
Occupation Doctor
Description
Military Doctor, Currently in Iran
IP address 197.251.143.64 – Ghana
---
Username orionpaul
Email orionpaul43@gmail.com
Name Orion Paul
Looking for Female
Age 55 y.o.
Country United States
City Millbrook
Here for Serious Relationship
Marital status Widowed
Sexual Orientation Straight
Children I have 1-2 children living elsewhere
Ethnicity Other
Religion Christian
Body Type Average
Education Masters Degree
Occupation military
IP address 41.242.139.10 – Ghana
This post was viewed 1219 times