Username Markeric
Email marke9192@gmail.com
Name Mark Eric
Looking for Female
Age 53 y.o.
Country United Kingdom
City Ramsey
Here for Serious Relationship
Marital status Divorced
Sexual Orientation Straight
Children I have 1-2 children living with me
Ethnicity White
Religion Christian
Body Type Average
Education Some college
Occupation Civil engineer
IP address 41.190.30.68 – Nigeria
---
Username danielyoo
Email danielyoo846@gmail.com
Name Daniel Yoo
Looking for Female
Age 58 y.o.
Country United States
City Arizona
Here for Serious Relationship, Marriage
Marital status Widowed
Sexual Orientation Straight
Children I don't have children
Ethnicity White
Religion Spiritual
Body Type Athletic
Education Masters Degree
Occupation engineering
IP address 185.242.5.26 – proxy
---
Username Richie1932
Email davisrichman@gmail.com
Name Davis Richman
Looking for Female
Age 55 y.o.
Country United States
City New York
Here for Marriage
Marital status Widowed
Sexual Orientation Straight
Children I have 1-2 children living elsewhere
Ethnicity White
Religion Christian
Body Type Average
Education PhD
Occupation Military engineering
Description
I was surfing through the site and came across your profile. Found it appealing and decided to leave you a message. Would you mind if we get to know each other?. Send me an email so that we can get to know each other better. I am not always available for chat on here.
IP address 197.210.45.109 – Nigeria
---
Username Rolon2
Email Rolonrobert999@gmail.com
Name Rolon Robert
Age 55 y.o.
Here for Serious Relationship, Marriage
Looking for Female
My match's age from 35 to 86
Location Oulu, Finland
Marital status widowed
Children no children
Sexual Orientation Straight
Ethnicity white
Religion Christian
Occupation Retired
Description
i am still trying to find out how it works when i came across y decided to write to you.I am an honest heart that`s looking for a stable relationship.
IP address 185.186.244.180 – proxy
---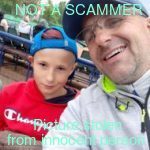 Username michealreal2
Email chiomaog15@gmail.com
Looking for Female
Age 52 y.o.
Country United States
City Miami
Here for Friendship
Marital status Widowed
Sexual Orientation Straight
Children I have 1-2 children living with me
Ethnicity Mixed
Religion Christian
Body Type Average
Education Other
Occupation engnier
IP address 139.59.25.84 – proxy
This post was viewed 717 times