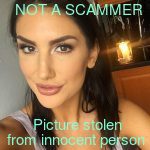 Username Monicakaye
Email Monicakaye889@gmail.com, Darlakaye660@gmail.com
Name Darla Kaye, Monica Kaye
Looking for Male
Age 32 y.o.
Country United States
City Dallas
Here for Romance, Serious Relationship
Marital status Single
Sexual Orientation Straight
Children I don't have children
Ethnicity Other
Religion Christian
Body Type Average
Education High School
Tel 520-809-7680
Description
I am here to meet you in real life and make you believe in love. If you want to get into the world of passion, tenderness and wild love, then you have to get to know me. I have a good heart, I am a romantic woman, sincere woman. I am feminine, loving, family-oriented and I like to take care of my man. I am looking for the love of my life. We can communicate with you on a variety of topics. And if you got interested with me Hit me Up on Hangout Darlakaye660@gmail.com and lets chat there or Text me 5208097680
IP address 102.129.224.2 – proxy
---
Username Mellisa
Email mellisadewitt@gmail.com
Name Mellisa Dewitt
Looking for Male
Age 30 y.o.
Country United States
City York
Here for Serious Relationship, Marriage
Marital status Single
Sexual Orientation Straight
Children I don't have children
Ethnicity White
Religion Christian
Body Type Average
Education High School
Occupation Stylist
Description
Simple,God fearing and easy going
IP address 92.119.177.186 – proxy
---
Username Graceanna
Email graceanna256@gmail.com
Gender Female
Looking for Male
Age 71 y.o.
Country United States
City Michigan
Here for Serious Relationship
Marital status Single
Sexual Orientation Straight
Children I don't have children
Ethnicity White
Religion Atheist
Body Type Athletic
Education Some college
Occupation Nurse
Description
Well i am very new to all this but like everything i know there are advantages and disadvantages. It gives you the chance to meet different people adopt certain good lifestyles. I pray I meet a real matured gentleman who is looking for a woman to settle down with and have a family with. I am not looking for a one night stand if that was what i was looking for i would go to a bar or club. I want to get to know someone inside and out and see how best we can make a relationship work.
IP address 45.76.65.17 – proxy
---
Username Lana329
Email Lanabrooks190@gmail.com
Name Lana Brooks
Looking for Male
Age 28 y.o.
Country United States
City South Carolina
Here for Friendship, Serious Relationship, Marriage
Marital status Single
Sexual Orientation Straight
Children I have 1-2 children living with me
Ethnicity Other
Religion Christian
Body Type Athletic
Education Other
IP address 105.112.11.251 – Nigeria
---
Username artsysh
Email artsyshark01@gmail.com
Gender Female
Looking for Male
Age 35 y.o.
Country United States
City New York
Here for Serious Relationship
Marital status Divorced
Sexual Orientation Straight
Children I want children
Ethnicity White
Religion Christian
Body Type Average
Education Some college
Occupation sales
Description
I do believe that true love doesn't happen right away , it's an ever growing process. It develops after you've gone through many ups and downs, when you've suffered together, cried together and laughed together
IP address 77.111.246.168 – proxy
This post was viewed 1265 times