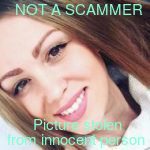 Username Brenda190
Email fayerages@yahoo.com
Name Faye Rages
Looking for Male
Age 34 y.o.
Country Australia
City Sydney
Here for Romance
Marital status In Relationship
Sexual Orientation Bisexual
Children I don't have children
Ethnicity Mixed
Religion Christian
Body Type Slim
Education Student
Occupation I am looking for a man for a serious relationship
Description
I am a charismatic, ambitious and active woman. I live an interesting life that is full of different events. I will tell you about everyone when you write to me. I want my man and I to share our interests. I am already an experienced and independent girl with a deep understanding of what I want. I am sociable and always ready to help my friends. I forgive a lot if a person never repeats them again.
IP address 1.42.186.102 – proxy
---
Username jaste
Email jasterlisa910@gmail.com
Name Lisa Jaster
Age 40 y.o.
Here for Serious Relationship, Marriage
Looking for Male
My match's age from 30 to 86
Location Oslo, Norway
Marital status single
Children want children
Sexual Orientation Straight
Ethnicity white
Religion Christian
Do you smoke non-smoker
Do you drink occasional drinker
Occupation Worker
Description
Am jovial but not of a rat.
IP address 213.162.246.193 – proxy
---
Username Elizabeth129
Email mw560453@gmail.com
Looking for Male
Age 29 y.o.
Country Australia
City Gold Coast.
Here for Serious Relationship
Marital status Single
Sexual Orientation Straight
Children I don't have children
Ethnicity White
Religion Christian
Body Type Average
Education Masters Degree
Occupation confidencial
IP address 64.190.114.160 – proxy
---
Username Deena
Email Emilybaby324@gmail.com
Looking for Male
Age 32 y.o.
Country United States
City Tampa
Here for Serious Relationship, Marriage
Marital status Single
Sexual Orientation Straight
Children I want children
Ethnicity White
Religion Christian
Body Type Fit
Education Other
Occupation Nurse
Description
I'm a easy going woman
IP address 197.210.45.163 – Nigeria
---
Username jessicameir
Email ranirajesh467@gmail.com
Age 42 y.o.
Here for Friendship, Serious Relationship
Looking for Male
My match's age from 19 to 86
Location Arizona, USA
Marital status separated
Children don't want children
Sexual Orientation Homosexual
Ethnicity hispanic
Religion Christian
IP address 157.245.226.255
---
More emails and phone numbers of scammers
maryokine402@gmail.com
joycesweetlove@gmail.com
443-585-2458
honestfati2g14@gmail.com
347-871-9747
lovelyhawa4242@gmail.com
laurasani20k17@gmail.com
712-250-6406
832-558-4734
Kaleboss1987@gmail.com
806-680-3621
beautykomogy1234@gmail.com
318-295-0520
972-584-7289
559-717-8814
347-985-0437
This post was viewed 1338 times