Username Tulsia
Email tulsiagabbard@gmail.com
Name Tulsia Gabbard
Looking for Male
Age 36 y.o.
Country United States
City Alaska
Here for Serious Relationship
Marital status Single
Sexual Orientation Straight
Children I want children
Ethnicity Native American
Religion Christian
Body Type Slim
Education Other
Occupation i am woman fight against terrios
Description
i am tulsia from united states of America i am here looking from a man that is seriously with a reationship
IP address 104.250.108.86 – proxy
---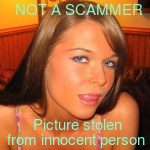 Username enelson
Email enelson700@hotmail.com
Gender Female
Looking for Male
Age 36 y.o.
Country United States
City Oklahoma
Here for Friendship, Romance, Serious Relationship, Marriage
Marital status Single
Sexual Orientation Straight
Children I don't have children
Ethnicity Mixed
Religion Christian
Body Type Average
Education Some college
Occupation Hairdresser
Description
I came here only with one wish to find my only one in a million whom I was waiting for all these years. I would like to build great relationship with my future partner and hope we will give a new dimension to our existences. I am cheerful, responsive and adventurous lady. It is all about me. For me it is the most important to feel, I think feelings are life.
IP address 204.155.30.126 – proxy
---
Username Maryjjt23
Email Thomasjjt23@gmail.com
Looking for Male, Female
Age 34 y.o.
Country United States
City Paradise valley Arizona
Here for Serious Relationship, Marriage
Marital status Widowed
Sexual Orientation Straight
Children I have 1-2 children living with me
Ethnicity Mixed
Religion Christian
Body Type Fit
Education Bachelors Degree
Occupation Fashion designer
Description
I'm a queen
IP address 41.203.78.166 – Nigeria
---
Username Textme65I3I78I6O
Email smithjenny907@gmail.com
Name Jenny Smith
Looking for Male
Age 38 y.o.
Country United States
City Dallas
Here for Friendship, Serious Relationship, Marriage, Just Fun
Marital status Single
Sexual Orientation Straight
Children I don't have children
Ethnicity Native American
Religion Christian
Body Type Average
Education Some college
Occupation Buying and selling
Tel 651-317-8160, 903-204-7082
Description
Am jenny born and brought up in minnesota but currently in Dallas Texas single never married and no kids looking for serious relationship that will leads to marriage text me on (651) 317-8160. And WhatsApp me on 9032047082
IP address 205.185.214.25 – proxy
---
Username Jessica789
Email jessicaketch789@gmail.com
Name Jessica Ketch
Looking for Male
Age 33 y.o.
Country United States
City San Jose
Here for Serious Relationship, Marriage
Marital status Married
Sexual Orientation Straight
Children I don't have children
Ethnicity Other
Religion Christian
Body Type Slim
Education Other
Occupation Hair stylist
Tel 614-385-0394
Description
I'm kind of shy I love meeting new people
IP address 195.181.168.22 – proxy
– different pic on hangouts
This post was viewed 693 times