Username Textme_5712865316
Email myerssarah116@gmail.com
Name Sarah Myers
Looking for Male
Age 32 y.o.
Country United States
City Virginia Bridgewater
Here for Serious Relationship
Marital status Single
Sexual Orientation Homosexual
Children I have 3 or or more children living elsewhere
Ethnicity Native American
Religion Christian
Body Type Average
Education Some college
Occupation Hi
Tel 571-286-5316
Description
Hello I'm Sarah single lady I live here in Virgina Bridgewater I am a well polished diamond. I don't like wasting anyone's time, life is to short.Well I 'll tell you a bit of my background. I was born and raised in Zurich Switzerland.It was much different when I was growing up,It was wonderful..im looking for a long term relationship that can successfully lead to marriage with the right man of my life if I can finally find him,…text me 571 286-5316 or you can add me up on hangout at myerssarah116at gmail.com
IP address 173.245.203.220 – proxy
---
Username lima530
Email miliyanboye@yahoo.in, limawiliam04@gmail.com
Looking for Male
Age 24 y.o.
Country United States
City kentruty
Here for Serious Relationship
Marital status Single
Sexual Orientation Straight
Children I don't have children
Ethnicity Black
Religion Christian
Body Type Slim
Education Student
Occupation Student
Description
Am good nice looking girl that want to meet any serious man to date
IP address 109.70.100.24 – proxy
---
Username Johnsonstellar17
Email Jstellar17@gmail.com
Name Johnson Stellar
Looking for Male
Age 31 y.o.
Country United States
City Las Vegas
Here for Serious Relationship
Marital status Single
Sexual Orientation Straight
Children I don't have children
Ethnicity White
Religion Christian
Body Type Fit
Education Student
Occupation Student
Description
I'm fit, honest and trustworthy if I live with the right person and I love watching TV at. Y leisure time
IP address 154.160.10.177 – Ghana
---
Username Phybe12
Email Ivycute69@gmail.com
Looking for Male
Age 33 y.o.
Country United States
City Las Vegas
Here for Friendship, Serious Relationship, Marriage
Marital status Single
Sexual Orientation Straight
Children I don't have children
Ethnicity Mixed
Religion Christian
Body Type Average
Education Some college
Occupation Ask me
Description
I am a cute caring lovable woman who is into anything really at this point in my life, whether it be a serious relationship or just Dating, but know my ultimate goal is to find a mate though.. I want to enjoy this phase of my life in my search and if my future mate happens to show up in front of me, I will not let him go
IP address 162.251.236.5 – proxy
---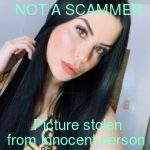 Username Eetherlooks
Email vewiyo@appmail24.com
Looking for Male
Age 42 y.o.
Country United States
City Tennessee
Here for Serious Relationship, Marriage
Marital status Single
Sexual Orientation Straight
Children I have 1-2 children living with me
Ethnicity White
Religion Christian
Body Type Athletic
Education Some college
Occupation Registered Nurse
Description
I am a confident, passionate and beautiful woman. I am ready to do anything to meet a man and love, have days and nights full of love and care. I know how to make him happy and if I start a relationship, then I want them to be long and for life because I'm single. I have a big heart, good soul and of course big natural breasts whom I am proud.
IP address 167.99.90.43 – proxy
This post was viewed 766 times