Username boyer
Email nicole.boyer111@gmail.com
Name Nicole Boyer
Looking for Male
Age 34 y.o.
Country Morocco
City nice
Here for Serious Relationship
Marital status Single
Sexual Orientation Bisexual
Children I have 3 or or more children living elsewhere
Ethnicity Mixed
Religion Other
Body Type Average
Education Some college
Occupation amour
IP address 41.207.192.117 – Ivory Coast
---
Username wendysenta200
Email wendysent2@gmail.com
Name Wendy Senta
Looking for Male
Age 31 y.o.
Country Ghana
City Accra
Here for Serious Relationship, Marriage
Marital status Single
Sexual Orientation Straight
Children I don't have children
Ethnicity Other
Religion Christian
Body Type Athletic
Education Other
IP address 41.66.203.150 – Ghana
---
Username Kattybabe
Email Sexysexyxyy@gmail.com
Looking for Male
Age 32 y.o.
Country United States
City Cincinnati
Here for Serious Relationship, Marriage
Marital status Single
Sexual Orientation Straight
Children I don't have children
Ethnicity White
Religion Christian
Body Type Average
Education Some college
Occupation Ask me
Description
I am here looking for my soulmate.. no time to play games because Time wait for no one. I am willing to settle down if I met the right one.. I have a good sense of humor and I know that you can't be bored with me..
IP address 64.145.93.169 – proxy
---
Username angeline190
Email angelinededz@gmail.com
Looking for Male
Age 30 y.o.
Country United States
City Illinois
Here for Friendship, Serious Relationship, Marriage
Marital status Single
Sexual Orientation Straight
Children I don't have children
Ethnicity White
Religion Christian
Body Type Athletic
Education Bachelors Degree
Occupation Beautician
Description
Honesty is my policy
IP address 154.160.4.249 – Ghana
---
Username Judilanic
Email Judilanice300@gmail.com, opeyemilinda1@gmail.com
Name Judi Lanice, Linda Opeyemi
Looking for Male
Age 18 y.o.
Country United States
City New York Cite
Here for Serious Relationship
Marital status Single
Sexual Orientation Straight
Children I don't have children
Ethnicity White
Religion Christian
Body Type Slim
Education Student
Tel 769-301-9709, 702-781-1548
IP address 41.218.219.56 – Ghana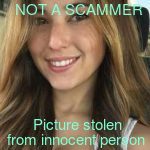 ---
More emails and phone numbers of scammers
albaricoque.inc@gmail.com
claymarsha5@gmail.com
407-680-2915
shannonsasha286@gmail.com
773-340-1467
sandratomi102@gmail.com
sandradezy41@gmail.com
661-235-0651
cleanfaith67@yahoo.com
201-564-5099
allinsophia436@gmail.com
406-478-8537
jessyroger91@gmail.com
813-280-5591
prettyedname@gmail.com
323-515-7659
Sweetmelody200016@gmail.com
636-306-2759
This post was viewed 1021 times