Username Lisadennis
Email lisadennis228@gmail.com
Name Lisa Dennis
Age 31 y.o.
Here for Serious Relationship
Looking for Male
My match's age from 21 to 86
Location London, UK
Marital status single
Children want children
Sexual Orientation Straight
Ethnicity white
Religion Christian
Occupation goverment
Description
Hello my name is Lisa Dennis i am 31 Years kind loving and fun to be with i love reading as a hobby and cooking ,going to the beach ,i also love sports like jogging ,going for walk ,golf as my best sports . i am looking for a good kind in heart and loving
IP address 175.143.17.190 – Malaysia
---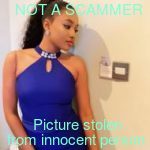 Username Lizzy4u
Email mirbels@yahoo.com
Name Lizzy Yahu
Looking for Male
Age 24 y.o.
Country United States
City new york
Here for Friendship, Romance, Serious Relationship, Marriage, Just Fun
Marital status Single
Sexual Orientation Straight
Children I don't have children
Ethnicity Black
Religion Christian
Body Type Average
Education High School
Occupation Student
Description
Hello dear how are you doing? my name is Lizzy Yahu nice to meet here,please write me in my email lizzyyahu@gmail.com i have very important issues to discuss with you is not what we can discuss here write me in my email
IP address 46.166.142.221 – proxy
---
Username singlebee1
Email bettermustcome20@gmail.com
Looking for Male
Age 30 y.o.
Country United Kingdom
City yeovil
Here for Serious Relationship
Marital status Single
Sexual Orientation Straight
Children I don't have children
Ethnicity Mixed
Religion Christian
Body Type Slim
Education Some college
Occupation trader
Description
I am just a simple woman who is sweet, loving and family-oriented. I know I am not that attractive but I am a kind of person who has a good heart. I love to meet new friends or discover new things.
It is my dream to have a lifetime partner if given a chance.I want to have a relationship that is true and someone who has sincere intentions. Someone I can lean on, understanding, honest, caring and faithful I am very willing to relocate.
IP address 141.98.101.109 – proxy
---
Username Theresa5
Email Hohummu@gmail.com
Looking for Male
Age 44 y.o.
Country United States
City Massive
Here for Friendship, Serious Relationship
Marital status Single
Sexual Orientation Straight
Children I don't have children
Ethnicity White
Religion Christian
Body Type Slim
Education Some college
Occupation Hello Ama Theresa
Tel 816-919-5658
Description
+18169195658 Hello handsome am Theresa and I will like as to know more about each other (816) 919-5658
IP address 64.190.115.242 – proxy
---
Username Rita11
Email Ritaamoah1129@gmail.com
Name Rita Moah
Looking for Male
Age 33 y.o.
Country United States
City Michigan
Here for Serious Relationship
Marital status Separated
Sexual Orientation Straight
Children I want children
Ethnicity Native American
Religion Christian
Body Type Slim
Education Bachelors Degree
Occupation Student
Tel 937-280-6523
Description
Textme9372806523….Ritaamoah1112@gmail.com
IP address 92.119.177.180 – proxy
---
This post was viewed 4438 times