Username daniel
Email itzsegunadebayo@gmail.com
Name Daniel Bill
Scammer's real name Segun Adebayo
Looking for Female
Age 55 y.o.
Country United States
City texax

Here for Romance, Serious Relationship, Marriage
Marital status Widowed
Sexual Orientation Straight
Children I have 1-2 children living with me
Ethnicity White
Religion Christian
Body Type Voluptuos

Education Other
Occupation doctor
<– idiot's real mug on hangouts
Personal Description
my name is daniel bill, am a orthopedic surgeon doctor
IP address 41.57.217.81 – Ghana
Picture stolen from David Samadi
---
Username Immartin
Email immartinclinton@gmail.com
Name Martin Clinton
Looking for Female
Age 42 y.o.
Country United States
City Washington
Here for Marriage
Marital status Divorced
Sexual Orientation Straight
Children I have 1-2 children living with me
Ethnicity White
Religion Christian
Body Type Overweight

Education Bachelors Degree
Occupation Business
IP address 87.101.95.19 – proxy
---
Username meek778
Email jeffmeek131@gmail.com
Name Jeff Meek
Looking for Female
Age 55 y.o.
Country United Kingdom
City Londom
Here for Serious Relationship
Marital status Single
Sexual Orientation Straight
Children I don't want children
Ethnicity White
Religion Christian
Body Type Slim
Education Masters Degree
Occupation general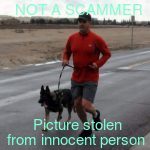 Personal Description
a man with hard working with true love
IP address 88.235.247.57 – Turkey, Nigerian scamming from Turkey
---
Username Trevorn
Email drnoeltrevor@gmail.com
Name Noel Trevor
Age 55 y.o.
Here for Friendship, Serious Relationship, Marriage
Looking for Female
My match's age from 46 to 70
Location Charlotte, NC, USA
Marital status widowed
Children no children
Sexual Orientation Straight
Ethnicity native american
Religion Christian
Occupation Medical doctor
Personal Description
I am a very straightforward and a sincere man with a high sense of humor, I am a very humble and a lovable man with an open arms to help and to make a positive impact to anyone that come across me. I a man with a sincere heart to love and to always expect love in turn.
IP address 183.179.249.208 – proxy
Pic stolen from TV and Radio presenter Nigel M.
This post was viewed 1727 times