Username Tedallen123
Email tedallen447@gmail.com
Name Ted Allen
Looking for Female
Age 59 y.o.
Country United States
City Washington Spokane
Here for Serious Relationship, Marriage
Marital status Widowed
Sexual Orientation Straight
Children I have 1-2 children living elsewhere
Ethnicity White
Religion Christian
Body Type Average
Education Masters Degree
Occupation Engineer
Personal Description
I am very simple and compassionate, with good heart and fun spirit. I followed all my dreams, but one thing still missing a good woman my soul mate. I love animal, outdoor, dance, music, travel. All i want is have someone to share simple things of life with, smile, laugh and love. I believe what's make a relationship last forever is passion, love, trust, respect and communication.
IP address 212.103.48.180 – proxy
---
Username Josiah
Email jm6138047@gmail.com
Looking for Both
Age 58 y.o.
Country United States
City New London
Here for Romance, Serious Relationship, Marriage
Marital status Widowed
Sexual Orientation Straight
Children I want children
Ethnicity White
Religion Christian
Body Type Fit
Education Bachelors Degree
Occupation Oil transport
IP address 31.13.191.41 – proxy
---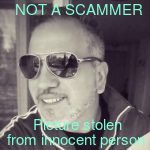 Username frank
Email frankalbert2728@gmail.com
Name Frank Albert
Looking for Female
Age 52 y.o.
Country Germany
City Stuttgart
Here for Marriage
Marital status Divorced
Sexual Orientation Straight
Children I have 1-2 children living elsewhere
Ethnicity White
Religion Christian
Body Type Average
Education Other
Occupation engineer
IP address 41.66.202.42 – Ghana
---
Username Chris123
Email Chrismanford123@gmail.com
Name Chris Manford
Looking for Female
Age 48 y.o.
Country United States
City Ohio
Here for Serious Relationship
Marital status Widowed
Sexual Orientation Straight
Children I have 1-2 children living elsewhere
Ethnicity White
Religion Christian
Body Type Fit
Education Other
IP address 154.160.27.254 – Ghana
This post was viewed 1316 times