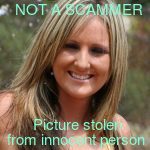 Username Rita
Email cassiefordson@gmail.com
Name Cassie Fordson
Looking for Male
Age 38 y.o.
Country United States
City San Diego
Here for Friendship, Romance, Serious Relationship, Marriage
Marital status Single
Sexual Orientation Straight
Children I don't have children
Ethnicity White
Religion Other
Body Type Slim
Education Bachelors Degree
Occupation Fashion designer
 <– different pic on hangouts
Personal Description
I have been lucky in life and now I am looking to be lucky in love.. I am always positive and only surround myself with the same kind of people. I love to laugh and smile as much as possible.However, I do know when and where to be serious and respect that trait in others, as well.
IP address 154.160.20.100 – Ghana
---
Username LS19
Email alphadairyfarmsltd@gmail.com
Looking for Male
Age 34 y.o.
Country Malaysia
City kuala lumpur
Here for Friendship, Serious Relationship
Marital status Single
Sexual Orientation Straight
Children I don't have children
Ethnicity Asian
Religion Christian
Body Type Average
Education Bachelors Degree
Occupation consultant
Personal Description
I am an agent connecting rich sugar mummies to men here in Kuala Lumpur ,Malaysia , without you as a man not spending for the lady, the lady will cares for you and feed you and buy you a sweet car and accommodation and pay you weekly as your salary, if interested contact on this whatsapp +601151599045. Any men from any location can also contact.
IP address 129.205.113.17 – Nigeria
---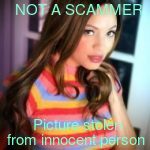 Username mia_alice543
Email miaalice543@gmail.com
Name Mia Alice
Looking for Male
Age 34 y.o.
Country United States
City Los Angeles
Here for Marriage
Marital status Divorced
Sexual Orientation Straight
Children I don't have children
Ethnicity White
Religion Christian
Body Type Average
Education Masters Degree
Occupation stock manager
Personal Description
Looking for a serious relationship that's gonna lead to marriage
IP address 167.114.170.76 – proxy
This post was viewed 1298 times