username: andy5244
name: Andy Williams
email: andywilliams52442@gmail.com
age: 53
location: London, United Kingdom
ethnicity: white
occupation: Businessman
marital status: divorced
IP address: 46.101.204.170
description:
since the divorce of my wife,its been lonely,but i have to move
on,deserve to be happy again,so that's why i want to give another try at another serious relationship with that special person.
Am romantic,humorous,friendly,funny and interesting kind of person.i like the outdoors
(exploring nature as i would say.)when am not working.I like going outside,sometimes to
the beach with those i really care about,and have fun.I enjoy meeting people and enjoy
a variety of recreational activities. My favorite outdoor activities are exploring,
hiking, camping, canoeing, bicycling, motorcycle riding, fishing and sightseeing. I also
enjoy long walks and special picnics with my 14 yr's old son andy jr
For interests I am into going out for Dinners, beach, movies, hanging with friends,
surf kayaking, gym, karate, wake boarding (well I try, very unsuccessfully lol) and
just chilling out at home with a video and a snuggle with someone nice can be a lot of
fun too. I consider my self really easy going, and don't stress out too much (though
occasionally I might), I take life as it comes and if things go bad I look at the
positive side of it and just accept it, hoping all will turn out 🙂 I also like trying
new things and will try most things once. I like to have a laugh and I also can be
serious also if it permits, I am known to be very caring and honest, I like doing
things for people I like or love, and when with a partner I like to let her know she is
loved and I am not afraid to show it, (though I don't smother to the point its
annoying), I just have respect for my partners and I like to show it, whether its with
flowers, dinners or just treating them with the respect the deserve, damn I hope I
don't sound to corny lol, anyhow enough about me, just ask if you want to know more.
message: –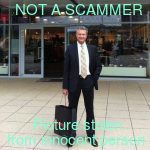 WHY IS IT A SCAM / FAKE:
IP is a proxy
IP doesn't correspond location
Pictures are widely used in scams
Profile description is widely used in scams
Nigerian wording
Also see here:
https://www.romancescam.com/forum/viewtopic.php?t=74888
This post was viewed 3846 times