username: grover_hayes123
name: Grover Hayes
email: grover.hayes012@gmail.com
age: 51
location: Bloomington, Indiana, United States
ethnicity: mixed
occupation: self employed
marital status: widowed
IP address: 113.21.225.82
description:
I would consider myself a dependable, genuine guy, who has strong family values, and greatly appreciates the time I get to spend with friends and family.
I have a curious mind and enjoy learning new things, and expanding my knowledge of the world. I guess I am seeking to find someone special to share my future with.
My passions in life include design/architecture, food, the prospect of seeing more of the world, being active and healthy, sport and the odd blokey thing like my interest in cars, and anything automotive. I enjoy going out for dinner, seeing new movies, going for long drives, exploring things about the city that are new.
message:
hello how are you doing i'm Grover Hayes by name would you mind knowing each other ?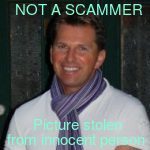 WHY IS IT A SCAM / FAKE:
IP is a proxy
IP doesn't correspond location
Profile description was used in scams before
Mass-mailing
Nigerian wording
This post was viewed 1559 times