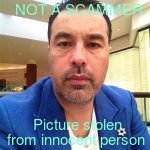 username: alexandre
name: Alexandre Perrin
email: alexandreperrin3@aol.com
alternative name: Henry Guzzman
age: 52
location: Virgnia Beach, United States, or Paris, France
ethnicity: white
occupation: self employed
marital status: divorced
IP address: 74.120.223.185
description:
I'm fun, somewhat shy initially and outgoing when getting to know you. I'm a thinker, I like quiet times, and meditate often. Hiking, biking, still play some golf, skiing, climbing the big ones though not as frequent as in the past, horseback riding in the mountains, fly fishing and sometimes I still go chase the big ones through the timber and all these activities are a part of my life. I like shorts and jeans in the summer and can be just as comfortable dressed to the nines. I don't mind gardening and can do a great garden. I like the finer things in life and have never regret my career choice. I am an honest,kind,caring understand and of good sense of humor,passionate heart that's looking for a stable relationship. I understand it is important to lay down lasting foundations for a lasting relationship. I am an active person who enjoys cycling and running best. I believe keeping fit is important. I am ready for that 'final' relationship as we grow into our 'golden years. My desire is to meet a beautiful,sensitive, sensuous, warm, assertive single woman who wants a long term relationship. My interpretation of a real woman is one to whom you can pour out all the contents of your heart, chaff and grain together, knowing that the gentleness of hands will take it all, sift it, keep that which is worth keeping and, with a breath of kindness blow the rest away. If I haven't chased you off and you are still interested, please write and lets get to know each other. And finally, a partner, friend and lover who is not afraid of commitment, intimacy and being monogamous in a lasting relationship.
message:
Hi there how are you doing..?Nice smile you've got there.
I'm Alexandre by name and I did enjoy reading your profile so I decided to send you a message and get to know you better if you don't mind.
I'm a humble and understanding man with a great sense of humor and I'm looking for someone special to spend my whole life with.
How about you..?
WHY IS IT A SCAM / FAKE:
IP is a proxy
IP doesn't correspond location
Profile description is widely used in scams
Registered on different sites with different details and names
Mass-mailing
This post was viewed 1512 times