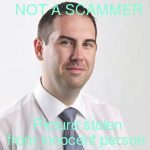 username: franktommm
name: Frank Tomasson
email: franktommm@gmail.com
age: 49
location: London, United Kingdom
ethnicity: white
occupation: contractor
marital status: widowed
IP address: 105.112.17.176
description:
ask me about myself but i will like to meet agood lady with a good heart and understanding for a serious relationship that may lead to marriage
message:
hello dear, I hope you are well? I am so happy to be your friend, but I want to be more than a friend to you. I saw your profile picture with a smile that made me smile, because the sun of your smile makes me a reason to rejoice, because the death of the mother of Bryan never find someone to love. I hope that you love me as I love you.
My name is Frank Tomasson, I'm 49 years with his son Bryan, who is 8 years old and I live with my son in London. I am an entrepreneur, I have to deal with oil and gas. I am a fun loving, hard working, easy going, down to earth guy who enjoys life to the fullest. I am a person, diverse and passionate. I like constructive conversation, hanging out with people I love like family and fun once in a while. You want to hear a joke?
I enjoy the romance as the long walks on the beach, hugging and romantic candlelit dinners. I love to be around fun people, how can I be a goofball once in a while. and I am currently looking for someone who loves to laugh and is not ashamed of what made me smile. I'm probably the most loyal and caring person you will meet. First of all, I am a family man. Family is very important to me. My career has brought me here. I am confident about my future, hoping to find that special someone to share life's adventures!
On the ground, funny, easy going guy looking to kind of lady. I come from a family with strong values ​​knit tight and hope that the person shares the same values.
I do not feel that it is necessary to write about everything about me here just because we can learn more about each other through a natural conversation. Describing himself just never seems to be right.
I love listening to music and spending time with my family, I like to constantly strive to improve themselves and to strive for new goals, I am a loyal man.
I am very easy going like fun love anything outdoors and sports. Everything you need to know about me, just ask
I want to be successful with my goals. One of my best goals is to get rich as a recording artist and provide for all of my family. I like all genres of hip hop, alternative, gogo, R & B, reggae, rock, old school, etc. I want to make it big with you by my side!
Hope to hear from you soon.
WHY IS IT A SCAM / FAKE:
IP is Nigeria
IP doesn't correspond location
Mass-mailing
This post was viewed 1308 times