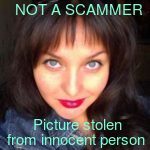 username: janemart003
name: Jane Martins
email: janemart003@gmail.com
age: 35 or 39
location: Louisiana, or Fullerton, California, United States
ethnicity: white
occupation: self employed
marital status: widowed
IP address: 207.244.105.43
description:
I am a widow with a 6yrs daughter all i am looking for on here is a loving and caring man someone we will both love and understand each other live together as one family and also have a happy home.. I am not here for sending nude pictures or talk dirty talk all am looking for in life time commitment with the right man for me and age does not matter is a number message me and i will get back to you.
I Am Interested In A Loving And Caring Man Someone We Will Both Love Each Other And Share One Heart The Man We Will Be Both Honest With Each Other And To Never Hide Anything From Ourselves Because That Will Make Us Happy A Long A Lasting Relationship With A Happy Home.
message:
How are you doing today i am Jane by name i will like to get to know you better.
WHY IS IT A SCAM / FAKE:
IP is a proxy
IP doesn't correspond location
Registered on different sites with different details
Mass-mailing
Nigerian wording
Also see here:
https://www.romancescam.com/forum/viewtopic.php?t=85169
This post was viewed 1598 times