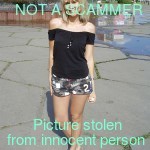 username: Roza321q
name: Roza, Olga
email: rosa32ru@yandex.ru, krasivai.olga@yandex.ru
age: 32
location: London, United Kingdom
ethncity: white
occupation: –
marital status: single
IP address: 82.145.208.197
description: –
message:
Hello!
My name is Roza. I saw your profile and I really liked you. I would be happy to meet you, hope you do not mind.
I'm looking for a serious relationship. I hope that I you are interested in and you'll be happy to meet with me.
If you are interested in me, write me at my e-mail rosa32ru@yandex.ru
I'll wait for your letter.
Roza.
WHY IS IT A SCAM / FAKE:
IP doesn't correspond location
Mass-mailing
Pictures used in scams before
Also see here:
https://www.romancescam.com/forum/viewtopic.php?t=13354
This post was viewed 3168 times