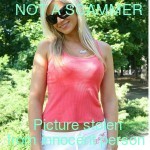 username: suzzy
name: honest suzzy
email: honestsuzzy888@yahoo.com
age: 31
location: Accra, Ghana
ethncity: white
occupation: hiardressert – his spelling
marital status: single
IP address: 41.218.228.197
description:
I am active and optimistic! I am intelligent and kind-hearted. I am gentle and romantic. I am flexible and compromising. I am tolerant and caring! I am cheerful and genuine! I am perfect! I am in love with my home. I am looking for a kind-hearted, giving, intelligent, sporty, reliable, positive, caring and gentle man who I can trust, respect and love. You beauty is the state of your soul only! I hope to be with you in joy and grieve! I am very faithful!
message:
I can't tell much about myself, I think that one cannot be objective when telling something about oneself. People I know say that I am very polite and generous to others. And I myself, believe that I am very single-minded, because I always do my best to get what I want. At the same time I am a shy person, may be that is the reason why I try to find some new acquaintances here, as it seems a bit easier here. I am very accurate. I can certainly say that I am a healthy person, because I do everything to keep my mind and body always in a good shape! I eat healthy food, I don't have any bad habits, like drinking and smoking..I want to find someone who will come to me once and will stay by my side forever. I'm sure that it is possible to fall in love one time and spend the whole life together. I believe that eternal love exists and that is why I am looking for honest and caring man, who will give me all his love and attention.
Add me on honestsuzzy888@yahoo.com or honest.suzzy@skype or honestsuzzy@hotmail.com..I wish u kises and hugs..
WHY IS IT A SCAM / FAKE:
Pictures are stolen from a known source
Pictures were used in scams before
Also see here:
https://www.romancescam.com/forum/viewtopic.php?f=1&t=7926
This post was viewed 3153 times