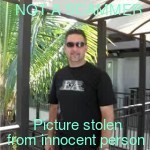 username: billy481
name: brian ford
email: brian_ford55@yahoo.com
age: 51
location: United Kingdom
ethncity: white
occupation: engineer
marital status: divorced
IP address: –
description:
Nothing much,am brian ford,british american,born october 7th 1960,got a daughte. r her name is linda,been divorce for about 3yrs,am easy going,down to earth,with good sense of humour,we talk about that later.
Am an engineer,self employed for a while now,though I like my job,usually lots on the desk,got fed up sometimes cos it makes me travel a lot,thinking of settling down so I can have time for myself and my family,I am serious when it comes to my work,but I hate it when am not there for my daughter,promise it will not come between me and you.
message:
Hello,am brian ford,how are you doing today?just got here,was just going through when I came across your profile,it sounds nice and you look good in your pic,will like to know more about you,how is the weather today?have a lovely day,God bless.
WHY IS IT A SCAM / FAKE:
Nigerian wording
Already listed on other scamlists
This post was viewed 1901 times