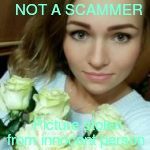 Username Jesica15314
Email fatima.rahmani12121@gmail.com
Name Fatima Rahmani
Age 37 y.o.
Here for Romance, Serious Relationship
Looking for Male
My match's age from 38 to 86
Location New York, NY, USA
Marital status single
Children no children
Sexual Orientation Straight
Ethnicity mixed
Religion Christian
Occupation Doctor
Description
Beautiful and smart girl, caring and can always keep up the conversation
IP address 31.31.73.195 – proxy
---
Username Selena35
Email 000riggsselena@gmail.com
Name Selena Riggs
Looking for Male
Age 35 y.o.
Country United States
City California City
Here for Friendship, Romance, Serious Relationship, Marriage, Just Fun
Marital status Single
Sexual Orientation Straight
Children I don't have children
Ethnicity White
Religion Other
Body Type Athletic
Education Some college
Occupation Waitress
Description
I am a well-bred, easy-going and friendly lady. I try to be open-hearted to people and am always ready to assist them. I like children and it is very easy to find common language with them. I want a family and like spending all my free time with family. I always take care of people I love. I am a woman who can make a house cozy.
IP address 154.160.24.205 – Ghana
---
Username mercy121
Email mercyfrancos147@gmail.com
Name Mercy Francos
Age 40 y.o.
Here for Friendship
Looking for Male
My match's age from 25 to 86
Location New York, United States
Marital status single
Children no children
Sexual Orientation Straight
Ethnicity white
Religion Other
Occupation Military
Description
i am a nice and good looking woman with open heart and good minded person
IP address 194.30.136.123 – proxy
---
Username Terrace2020
Email terrancekathy2020@gmail.com
Gender Female
Looking for Male
Age 28 y.o.
Country New Zealand
City Auckland
Here for Serious Relationship, Marriage
Marital status Single
Sexual Orientation Bisexual
Children I don't have children
Ethnicity White
Religion Christian
Body Type Slim
Education High School
Occupation Sell coffee
Tel 219-250-8207
Description
I'm Kathy by name 28 years old by my age I'm here looking for a serious relationship that can lead to marriage, I'm from new Zealand but now I live in Denver Colorado USA, my WhatsApp Number is +1 219 250 8207 Google hangout Terrancekathy2020@gmail.com
IP address 129.205.124.46 – Nigeria
---
Username Evelyn3457
Email edarku14@gmail.com
Looking for Male
Age 32 y.o.
Country United Kingdom
City London
Here for Serious Relationship, Marriage
Marital status Separated
Sexual Orientation Straight
Children I want children
Ethnicity Other
Religion Christian
Body Type Average
Education Masters Degree
Occupation Business
IP address 154.160.5.34 – Ghana
---
More emails of scammers
harrisjenny1977@gmail.com
loveg6085@gmail.com
Castrokimofficial@gmail.com
dianazoch12@gmail.com
pharaohmelvin0@gmail.com
Crestinahester@gmail.com
markwinson234@gmail.com
francoisdubois09845742@gmail.com
amidufadilatu@gmail.com
barthytomlina1234@gmail.com
Maryann16kg@gmail.com
520-365-2920
This post was viewed 322 times