Username David3001
Email dw8498836@gmail.com
Name David Wilson
Looking for Female
Age 55 y.o.
Country United States
City Hawthorne
Here for Marriage
Marital status Single
Sexual Orientation Straight
Children I don't have children
Ethnicity White
Religion Other
Body Type Athletic
Education Bachelors Degree
Occupation military
Description
I am a loving and caring person. Compassionate and friendly.
IP address 197.210.227.237 – Nigeria
---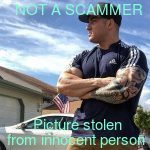 Username Matthew77
Email matthewmark388@gmail.com
Gender Male
Looking for Female
Age 44 y.o.
Country United States
City Canada
Here for Serious Relationship
Marital status Single
Sexual Orientation Straight
Children I have 1-2 children living with me
Ethnicity Native American
Religion Christian
Body Type Average
Education High School
Occupation Working
Description
Weight instructor
IP address 197.210.85.27 – Nigeria
---
Username Eddy02
Email eddyagakpe06@gmail.com
Name Eddy Agakpe
Looking for Female
Age 50 y.o.
Country United States
City Texas
Here for Serious Relationship
Marital status Single
Sexual Orientation Straight
Children I have 1-2 children living with me
Ethnicity Asian
Religion Spiritual
Body Type Average
Education Masters Degree
Occupation Engineer
IP address 159.65.140.207 – proxy
---
Username Jason04
Email desmondjason04@gmail.com
Name Jason Desmond
Looking for Female
Age 41 y.o.
Country United States
City Maryland
Here for Serious Relationship
Marital status Widowed
Sexual Orientation Straight
Children I have 1-2 children living elsewhere
Ethnicity Native American
Religion Christian
Body Type Average
Education Masters Degree
Occupation Engineer
Description
Am respectful man and am humble person i will like to meet a respectful woman also
IP address 81.92.200.211 – proxy
---
Username Franklee4440
Email franklee4441@gmail.com
Name Frank Lee
Looking for Both
Age 48 y.o.
Country Poland
City Warsaw
Here for Serious Relationship
Marital status Widowed
Sexual Orientation Bisexual
Children I don't have children
Ethnicity White
Religion Christian
Body Type Average
Education Masters Degree
Occupation Contractor
Description
Am a very compassionate loving person who like people for their differences
IP address 197.211.53.242 – Nigeria
This post was viewed 309 times