Username pat23
Email patmilito0@gmail.com
Name Pat Milito
Age 59 y.o.
Here for Serious Relationship, Marriage
Looking for Female
My match's age from 40 to 69
Location Florida, USA
Marital status single
Children 1-2 living with me
Sexual Orientation Straight
Ethnicity native american
Religion Christian
Description
I am real easy going person to talk to and a loving caring and outgoing father. I enjoy reading which I do often at my leisure time. I like going bowling, or watching movies in my room or Cabin, I like swimming, listening to music and dance to any kind of music.
IP address 115.134.222.146 – Malaysia
---
Username Jasoncamp
Email jamilcamp71@gmail.com
Name Jason Campbell, Jamil Campbell
Looking for Female
Age 55 y.o.
Country United States
City Texas city, Texas
Here for Friendship, Serious Relationship, Marriage
Marital status Widowed
Sexual Orientation Straight
Children I don't have children
Ethnicity White
Religion Christian
Body Type Fit
Education Bachelors Degree
Occupation Military
Description
Major General
IP address 105.112.31.19 – Nigeria
---
Username Anthonykubi1970
Email Anthonykubi1970@gmail.com
Name Anthony Kubi
Looking for Male
Age 49 y.o.
Country United States
City Los Angeles
Here for Serious Relationship
Marital status Divorced
Sexual Orientation Straight
Children I don't have children
Ethnicity Hispanic
Religion Christian
Body Type Average
Education Other
Occupation construction
IP address 104.236.161.80 – proxy
---
Username Micheal00001
Email michealendozo@gmail.com
Name Micheal Endozo
Looking for Female
Age 57 y.o.
Country United States
City Dos Palos
Here for Marriage
Marital status Widowed
Sexual Orientation Straight
Children I don't have children
Ethnicity White
Religion Muslim
Body Type Fit
Education Some college
Occupation engineer
Description
I'm new on here to find a good woman that will love and stand by my side as much as I do for her
IP address 105.112.96.5 – Nigeria
---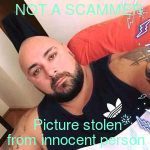 Username Nicklas
Email Bendtnernicklas123@gmail.com
Name Nicklas Bendtner
Looking for Female
Age 44 y.o.
Country United States
City New York City
Here for Serious Relationship
Marital status Single
Sexual Orientation Straight
Children 1-2 living with me
Ethnicity White
Religion Christian
Body Type Athletic
Education Bachelors Degree
Occupation self employed
Tel 740-913-1988
Description
I am cool and easy to get along with. I love to make new friends and meet new people. I am a single Dad blessed with 2 beautiful daughters. I live alone and I work in the Tourism Industry. You can text me on Hangouts with Bendtnernicklas123@gmail.com or text me on 7409131988
IP address 197.210.53.104 – Nigeria
– different pic on hangouts
This post was viewed 395 times