Username gecillamoore
Email gecillamoore2@gmail.com
Name Gecilla Moore
Looking for Male
Age 30 y.o.
Country United Kingdom
City London
Here for Friendship, Serious Relationship, Marriage
Marital status Single
Sexual Orientation Straight
Children I don't have children
Ethnicity Asian
Religion Christian
Body Type Athletic
Education Masters Degree
Occupation Shift supervisor
Description
Hello, Gecilla is my name. Do not hesitate to send me a message.
IP address 154.160.19.180 – Ghana
---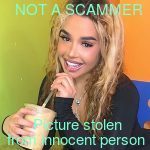 Username Bellacrystal
Email Malkovaannie@gmail.com
Name Annie Malkova, Bella Crystal
Looking for Male
Age 29 y.o.
Country Germany
City Berlin
Here for Serious Relationship, Marriage
Marital status Single
Sexual Orientation Straight
Children I don't have children
Ethnicity White
Religion Christian
Body Type Athletic
Education Some college
Occupation Ladies wear
IP address 74.121.190.218 – proxy
---
Username marcveratti
Email verattiandrea123@gmail.com
Name Andrea Veratti, Marc Veratti
Looking for Female
Age 36 y.o.
Country Canada
City quebec
Here for Serious Relationship
Marital status Single
Sexual Orientation Straight
Children I don't want children
Ethnicity White
Religion Christian
Body Type Athletic
Education Masters Degree
Occupation mechanic
Description
I am looking for a woman who can understand me and console me when I need it
IP address 41.202.68.199 – Ivory coast
---
Username Lorraine
Email Lorrainejackson359@gmail.com, m.ade00147@gmail.com
Name Lorraine Jackson
Looking for Male
Age 30 y.o.
Country United States
City Dallas
Here for Serious Relationship
Marital status Single
Sexual Orientation Straight
Children I want children
Ethnicity White
Religion Christian
Body Type Athletic
Education Bachelors Degree
Occupation Hair stylist
Tel 302-408-0605
Description
I'm 29yrs old single never been married with no kids
IP address 38.91.100.181 – proxy
---
Username Mysexylittlebody
Email maureenblanks2@gmail.com, amlordina00@gmail.com, hughescynthia86@gmail.com
Name Maureen Blanks, Cynthia Huges
Looking for Male
Age 34 y.o.
Country United States
City Louisiana
Here for Serious Relationship, Marriage
Marital status Single
Sexual Orientation Straight
Children I don't have children
Ethnicity White
Religion Christian
Body Type Slim
Education High School
Occupation Nails and pedicure and manicure
Tel 209-437-8776, 530-763-2092
Description
Am jentle looking person love and kind hearted person a good wife to be
IP address 64.145.93.199 – proxy
This post was viewed 486 times