Username vansweet
Email janewilliams2828@gmail.com
Name Janet Williams
Looking for Male
Age 29 y.o.
Country United States
City Atlanta
Here for Friendship, Romance, Serious Relationship, Marriage
Marital status Single
Sexual Orientation Straight
Children I don't have children
Ethnicity White
Religion Christian
Body Type Average
Education High School
Occupation business
Description
I am generous, gentle and loving one. My parents taught me to be understanding and Considerate, I am good at cooking, can be good listener, kind to my man. In the other hand I am also a passionate lady, I want to love and to be loved. It is time to settle and meet my only one. Ready to create a family, to relocate, my heart is open for love and for meeting my soul mate
IP address 204.14.77.208 – proxy
---
Username Jessicamorrison
Email Jessicamorrison595@gmail.com
Name Jessica Morrison
Looking for Male
Age 39 y.o.
Country United States
City Las Vegas
Here for Serious Relationship
Marital status Single
Sexual Orientation Straight
Children I don't have children
Ethnicity White
Religion Christian
Body Type Average
Education High School
Occupation Hair Dresser
Tel 650-762-8484
Description
Looking for a serious man in Life…Text Me +1(650) 762-8484
IP address 41.218.220.21 – Ghana
---
Username Siralove11
Email mohammed111960@outlook.com
Looking for Male
Age 35 y.o.
Country Senegal
City dakar
Here for Friendship
Marital status Single
Sexual Orientation Straight
Children I don't have children
Ethnicity White
Religion Other
Body Type Average
Education Other
Occupation student
Description
Personal Description Well, a man with good behavior is a man who is gentle, caring and loving, have patience, humble, mature and wise, religious, willing to work hard and to be man worthy of respect, not malicious talkers but temperate and trustworthy in everything. that's who I'm hoping to meet.
Hi dear
Nice to meet you after i saw your profile today and i became interested in you,please contact me through email (siradeen17@gmail.com ) or whatsapp ( +221706087765) for discussion,thanks
Sira
IP address 191.96.70.188 – proxy
---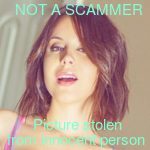 Username Lifydawn0gmailhhhj
Email Lifydawn0@gmail.com
Name Lify Dawn
Looking for Male
Age 30 y.o.
Country United States
City 94001
Here for Serious Relationship, Marriage
Marital status Single
Sexual Orientation Straight
Children I don't have children
Ethnicity White
Religion Christian
Body Type Slim
Education Bachelors Degree
Occupation Lawyer
Description
Im searching for my life long partner to share a Great Life of Love with; romance, long slow kisses, feeling very special, intimacy, spirituality, pleasurable communication, dancing, meeting of the minds, opening a door for you, flowers, and other exciting interests and adventures, A GREAT LIFE of LOVE! I am one who strongly believes in respect and that without respect, you cant experience true love and generate a healthy relationship. I believe in a smaller wow when it is first a friendship and then a larger Wow later as it evolves into a Beautiful Loving committed relationship. I believe its not just what you are like on the outside, but more about what you are like on the inside. Im seeking friendship first, (no game playing please) with someone who appreciates some of the same temperaments and interests I enjoy.That special someone is a man with integrity, is spiritually compatible with me, having similar beliefs – New Age and is responsible, intelligent, has a sense of humor, positive, is clean and neat in habit and appearance, romantic, passionate about living and loving.TEXT MY E MAIL LIFYDAWN0GMAIL
IP address 204.14.77.53 – proxy
---
Username Kimberlyg938
Email tpoint298@gmail.com
Looking for Male
Age 30 y.o.
Country United States
City Atlanta
Here for Serious Relationship
Marital status Single
Sexual Orientation Straight
Children I don't have children
Ethnicity White
Religion Christian
Body Type Average
Education Bachelors Degree
Occupation Dispatch
Tel 678-830-2721
Description
Personal Description Nice to meet you, I am new on here please text me for us to get a chance to know each other better. (678) 830-2721
IP address 64.145.67.225 – proxy
This post was viewed 559 times