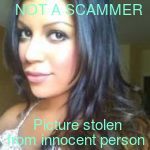 Username Malley
Email Gracemalley27@gmail.com
Name Grace Malley
Looking for Male
Age 27 y.o.
Country Ghana
City accra
Here for Marriage
Marital status Single
Sexual Orientation Straight
Children I don't have children
Ethnicity White
Religion Christian
Body Type Slim
Education Some college
Occupation Self employ
Personal Description
looking for a serious and long last relationship with the right guy in my lie
IP address 41.139.9.161 – Ghana
Picture stolen from Briana Lee
---
Username PatienceEdgar
Email Patiencedgar555@gmail.com
Name Patience Edgar
Looking for Both
Age 33 y.o.
Country United States
City Houston TX
Here for Serious Relationship
Marital status Divorced
Sexual Orientation Bisexual
Children I don't have children
Ethnicity Other
Religion Christian
Body Type Average
Education Other
Occupation Makeup artist
Personal Description
I need a responsible man out there….
IP address 105.112.27.228 – Nigeria
---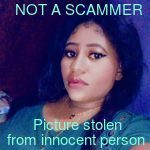 Username minasweety
Email sweetieabena22@gmail.com
Name Mina
Looking for Male
Age 31 y.o.
Country United States
City Rochester
Here for Friendship, Romance, Serious Relationship, Marriage
Marital status Single
Sexual Orientation Straight
Children I don't have children
Ethnicity Other
Religion Christian
Body Type Fit
Education Other
Occupation sells
Personal Description
I am a calm person with a mature mind who wants to meet true love. I am also determined and decisive and easy going person and it is pleasant to communicate with me. I am very loyal and dedicated in a relationship. I am a true friend and prefer longtime friend. I'm ready for a serious relationship someone to love and care.
IP address 147.135.11.113 – proxy
---
Username Favourofgod
Email Goldbecky26@gmail.com
Name Sarah
Looking for Male
Age 37 y.o.
Country United States
City Los Angeles
Here for Friendship, Romance, Serious Relationship, Marriage
Marital status Single
Sexual Orientation Straight
Children I don't have children
Ethnicity Native American
Religion Christian
Body Type Athletic
Education Some college
Occupation Teacher
Personal Description
My name is Sarah, I'm from USA ,I'm single and searching for a good man, I'm a teacher , I got a daughter and shes 6 years old …
Spam
Hi my name is Sarah, I'm from USA ..I'm single and searching for a good man.. I found your profile nice and I decide to send a few message to you.. I would love to get to know more about you.. My gmail is scr53347@gmail.com.. You cab add me up for a chat .. Thanks
IP address 209.234.253.154 – proxy
---
Username Michelle106
Email michellebenny106@gmail.com
Name Michelle Benny
Looking for Male
Age 30 y.o.
Country United States
City Minnesota
Here for Serious Relationship, Marriage
Marital status Single
Sexual Orientation Straight
Children I don't have children
Ethnicity Hispanic
Religion Christian
Body Type Athletic
Education Masters Degree
Occupation Students
Personal Description
cool,great sense of humor, love to make friends and meet people, i might be shy sometimes
IP address 91.207.175.250 – proxy
This post was viewed 805 times