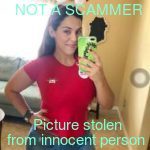 Username Throneofgod
Email adamsjenny377@gmail.com
Name Adams Jenny
Age 32 y.o.
Here for Fun, Friendship, Romance, Serious Relationship, Marriage
Looking for Female
My match's age from 28 to 75
Location Ocean Grove, Neptune Township, NJ, USA
Marital status single
Children 1-2 living with me
Sexual Orientation Straight
Ethnicity white
Religion Christian
Occupation Sales and marketing
Personal Description
I'm a fun, outgoing active person, full of life. I maintain a balance between career, family and personal life. I love nature, adventure, sunshine, moonlight, and a good laugh. I'm a happy, caring, romantic, passionate person and a loyal friend. I'm generally down to earth but appreciate finer things in life. I have a very outgoing personality, but it has been damaged by people who I though cared about me. I am careful now as to who I give my heart to. I love (almost) anything having to do with the outdoors. I dream of a nice walk along a garden path to a lighthouse or a waterfall with an enjoyable companion. I dream of sailing to a glorious island paradise with a jovial friend. I love long walks on the beach, candlelight dinners and am a romantic at heart i'm a considerate and caring person who is always willing to go that "extra" mile in a relationship–and expects the same in return. Sometimes quiet at first meeting, until I get to know somebody. I holding hands, competing or going out on a quiet trail ride or the beach. and our children most be the most important person in our life.
IP address 41.190.31.252 – Nigeria
This scam profile was removed from datingnmore, reason: Nigerian IP, profile description widely used in scams
This post was viewed 525 times