username: timgreen9
name: Timmy Greeny
email: greentm40@yahoo.com
age: 57
location: istanbul, Turkey
ethncity: white
occupation: self employed
marital status: divorced
IP address: 78.183.45.98
description:
I'm just a normal person. I love to laugh and joke around. I love being in the outdoors.I love life. And live it to the fullest.I am Honest, Faithful, Loyal, down to earth, and I enjoy the simple thing's in life.
I need someone who could possibly make me smile after so much pain from my recently relationship.
I'd like to find someone I look at everyday and be in shock that I found the one person that fits in my life. she would have to be smart and funny. I like to travel so the perfect match would have to as well.
message: –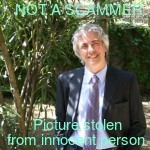 WHY IS IT A SCAM / FAKE:
Pictures are stolen from a known source
Description is used on various scammers profiles
This post was viewed 1463 times